Posted on:

Monday, May 21, 2018
What does rural health education and training look like? 
The RTT Collaborative issued a call for photographs depicting rural health education and training, and this year's photography contest winners were announced at The RTT Collaborative Annual Meeting in Spokane, Washington, in April 2018. Each picture chosen represents one or more domains of competence needed for rural practice. Stay tuned for next year's contest, likely to be announced in December 2018!
Click on an image to see a bigger version.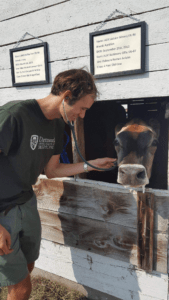 1st Place –" Patient Centered Care with a Smile"  submitted by Devin VanDyke, Norwich, VT
Comprehensiveness, Agency and Courage, Adaptability, Abundance, Resilience, Integrity, Reflective Practice, and Community Responsiveness – this captures them all.
---
2nd Place – "It's the Context"  submitted by Crystal Pristell, Mayfield, OH
We're not in Cleveland anymore!
---
3rd Place – "Using What you Have" submitted by Emilio Russo, Bogalusa, LA
Adaptability and an attitude of abundance in the face of scarcity and limitsare important domains of competence in rural education and practice.
---
Honorable Mention – "Sole Beacon" submitted by Jennifer Arnold, Minneaplis, MN
Sometimes being a rural physician is about facing challenges alone; sometimes it's about being a sole beacon of hope.
---
Honorable Mention – "Many Hats" submitted by  Kyle West, Ellensburg, WA
Medical students and resident physicians in rural communities, like their rural preceptors, wear many hats.